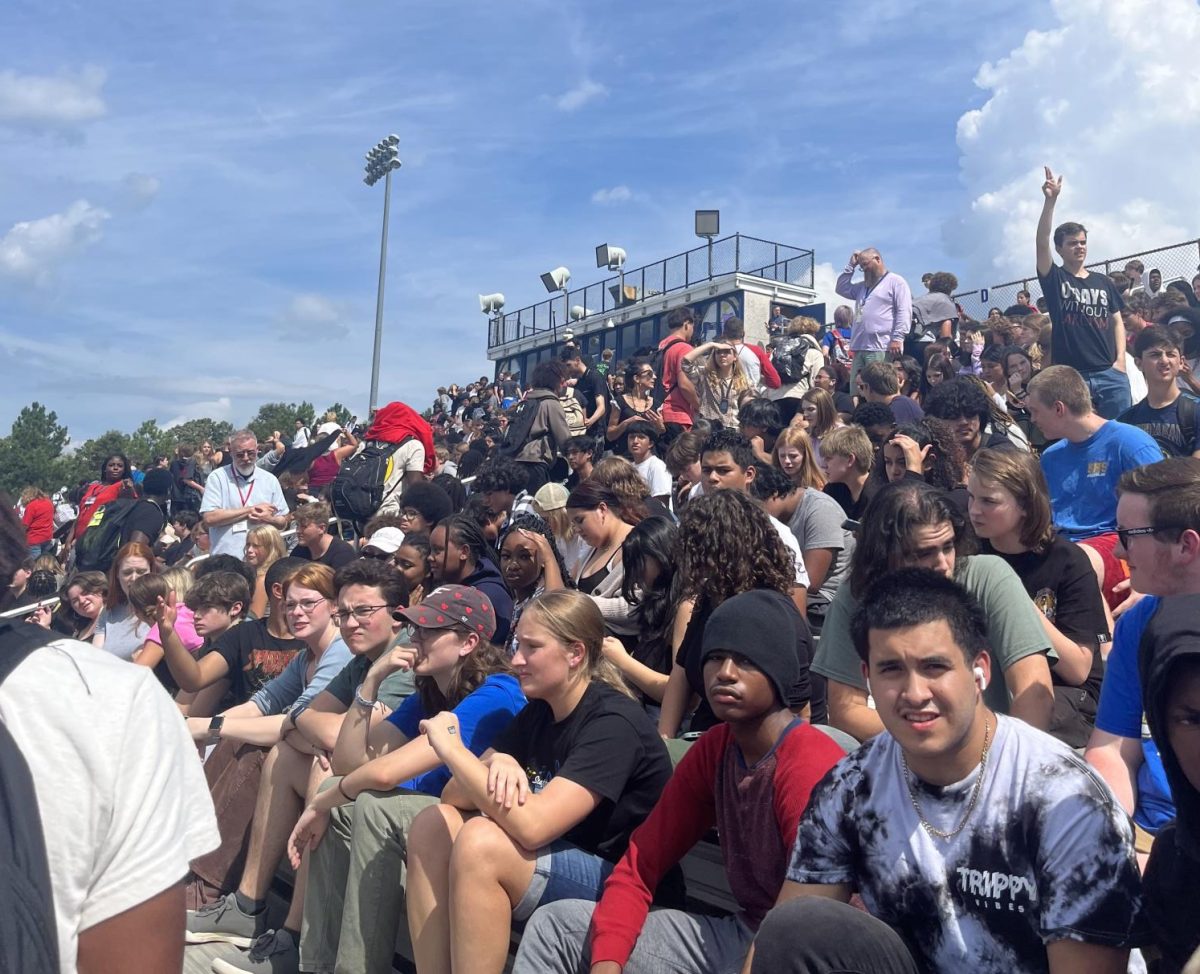 About 10 minutes into fourth period on September 12th, an alert was sent to all teachers phones sounding an alarm similar to the Amber Alert. The alert was quickly followed by a familiar overhead voice repeating, "evacuation." The sudden unruliness had everyone reaching for their bags and evacuating the school.
Within 30 minutes of the evacuation, students cluttered into the bleachers, trying to reach whatever section their 4x class was populating. An array of students filled the stadium as Stafford Sheriff's Deputies and ambulances began to show up. It was at this point, suspicions were addressed.
"Dear Stafford High School community, Out of an abundance of caution, Stafford High School is currently being evacuated due to an alleged threat," wrote principal Allen Hicks. "We immediately called the Stafford County Sheriff's Office, and they are currently investigating the building," he continued. "We will provide you with updates as they are available."
Within 30 minutes, Hicks sent out a second email with updated dismissal information. "Buses will be dismissed first from the stadium. Next, student drivers will be dismissed from the student parking lot. Finally, deputies and security will line up car rider vehicles near the park, and provide further direction for picking up students from this location," her wrote in the follow-up email.
As buses started dismissing and people became less frantic, students began sharing how the incident panned out. "I was very confused about what was going on when I first heard the alarm. I didn't know if it was a drill or not. I was in gym class so I had to quickly change and cram my way through the locker room just to get outside, it was exhausting," says Sophomore Sophie Wright.
In the haste of evacuation, many students left their belongings in the school unattended. Teachers and administrators were specifically told to keep everyone out of the building until the predicament was solved.
Despite the threat, drones, K9 units, and an immense presence of law enforcement helped everyone remain safe. Students were dismissed accordingly. If you have any further information about the incident, please notify school staff.