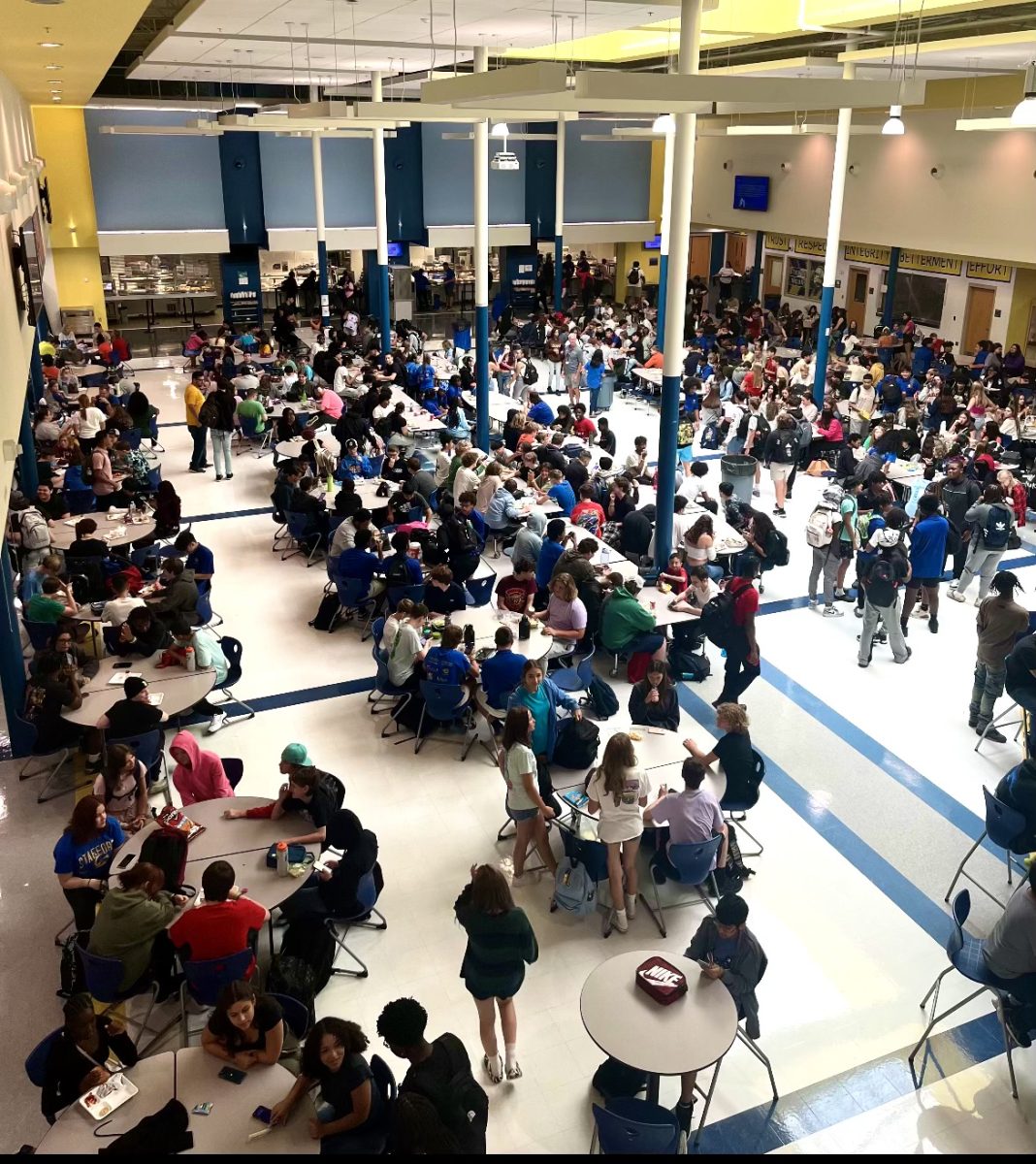 At the beginning of the 2022-2023 school year, Stafford students were given a sixty-minute lunch. They could roam around the halls, cluster into classrooms, or swarm in the excitement of the cafeteria. In that hour, teenagers could escape the mundane school day and find comfort in their surroundings with their friends. As the school year progressed, decisions were made, and now, students only have 30 minutes to eat.
"Most freshmen always come to high school ready for freedom 'cause that's what everyone says it is. They don't get that because of the new lunch schedule," says sophomore Clayton Lemke.
"It's terrible. We don't get much freedom as is, and now we don't see our friends," sophomore Denae Lardge complains. "It's so confusing and we can't get to class on time, it's too much new stuff. There is no socializing." 
This is a sore subject for many students here at Stafford High School. While some are upset with this change, others are forgetting the past and moving on to this brand-new schedule. Sophomore Tori Bove says, "I really like it. I like being able to have that 30 minutes to catch up on work and get ahead, and then the other 30 minutes to be able to see different people every day based on the A and B lunches. It's a good balance."
History teacher Joseph Sheehy makes a comment on the gap between these two perspectives. "I feel like a lot of [the student body's] frustration is that they had so much freedom last year and now it is definitely more restricted. But I think a lot of them don't remember what it was like before the hour lunch." 
This isn't just affecting the students. The faculty also have to accept the switches that are being put into place. The staff has to enforce the rules that the state mandates for all of the students, which includes "seat time," says Principal Allen Hicks. Seat time is the 990 hours of required educational time a year. This translates to five and a half hours of seat time a day, and 180 days of instructional time. The rush of mandatory seat time definitely warrants a bit of an adjustment period. 
When discussing the change at the sophomore class assembly, Hicks made one thing clear. "I know I've got emails from kids and parents complaining about the schedule. It has nothing to do with me, but everything to do with the state." 
While this schedule will take some getting used to, it has lifted off weight that has been put on teachers and staff. They no longer have to keep an eye on every corner of the school hoping a fight doesn't break out. 
"I feel a 30 minute lunch, from the administrator standpoint, is much more organized. Fewer areas for students to go, but still large enough to eat," Benjamin Diggs said. 
The surge of high school students is overwhelming and causing more of a ruckus than originally planned. Senior Nicole Atieku says, "In between switching from A to B lunch, I feel like I spend like 10 minutes trying to get downstairs. Then you have to wait in line for lunch, so by the time that's over, you have like 10 minutes to eat lunch." 
Assistant Principal Benjamin Diggs understands these concerns, but wants to look at the bright side. He said, "I want students to look at this as a compromise. The minutes that were lost in classes that added up to hours throughout [last] school year are now gonna be made up and we're gonna be better"
Diggs has always been a team player, so much that his first instinct when he heard the backlash his priority was to reassure his students.
"Part of the student body thinks that they were punished from last year, but that is so not true. I want to go on record saying it really is that we need more instructional time." Diggs later continues with "We always like student opinions." That said, anyone who has concerns about the schedule or having enough time to eat should speak with the administration. As Diggs said, they are always open to student input. 
So the question arises: Are we losing liberty or gaining opportunities? The answer is up to you. If you are concerned about the schedule or about timing, take initiative, make a solution, and propose it to Hicks. Otherwise, we have to make the most out of what we have. Take the 30 minutes of extra instruction to look more into your interests, do homework, get help from teachers, or even watch a show if you have the time. Make new friends at lunch and get comfortable with having different groups everyday. This new setup may not be as bad as we thought. The choice is yours. 
Contributors: Ava Brizendine, Jayda Jones, Natalie Roman, and Coco Wallace