"HE'S A FRESHMAN!'
Stafford High School looks to cultivate the next basketball sensation with Jackson Wallace.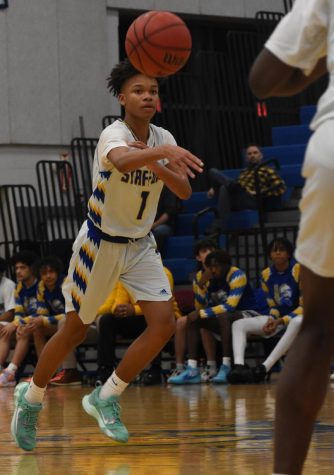 At the start of Stafford High School's 2022-2023 Varsity Boys Basketball season, buzz about a ferocious freshman point guard spread around the community. The driven 14-year old, Jackson Wallace, has since taken the school by storm with his uncanny ability to keep up with his upperclassmen, fresh out of his middle-school season at Dixon-Smith. 
Despite being the youngest player on the team, Wallace hasn't failed to make an instant impact at the varsity level. Standing at just 5'9, this dexterous athlete has certainly made a name for himself with 197 points scored so far this season (13-8). "The energy he brings off the court that we bring into the game is just so amazing," said Wallace's sophomore teammate, Carson Kennedy.
The point guard's talent exceeds players from all over Virginia, currently ranking as the  8th freshman in the state and 2nd overall in the Commonwealth region for shooting, according to Maxpreps. As his first high school season comes to a close, he has worked his way to being the top offensive performer on his team, averaging 10.9 points per game and 3.2 assists per game as of February 8, 2023. 
During Wallace's debut as Stafford's starting point guard, coaches immediately recognized his ability to keep the pace of game play, naming him "Player of the game." Since then,  the freshman has also been commemorated county-wide for his staggering performance during Stafford's tight game against BPHS on Dec. 19th, 2022. Wallace walked out of his 7th high school game dropping 20 points, 4 assists, and the game winning 3-point shot with only 2 seconds on the clock, making the final score 51-49.
SHS coaching staff have been thoroughly impressed by Wallace's seamless transition to high school ball. "There's a big difference between middle school and high school," said William Richardson, the head varsity basketball coach at Stafford. "Most freshmen will lack that strength," Richardson says. "If you don't have the strength, you can make up for it with your knowledge of the game. That's what gets him over."
Well before Wallace's first day of high school, prior to Richardson becoming head coach, Richardson had already caught a glimpse of Wallace's talent through Stafford basketball camps he would attend as an elementary schooler. Following in his brother Joshua's footsteps, Jackson would show up with something to prove. "He would come to our workouts, and I would just watch him," Richardson said. "You'd never have to tell him what to do." Even from a young age, Richardson had viewed Wallace as a prospect for greatness. "From the first time he bounced the ball against our varsity players, I'm like man, we're gonna be okay," said Richardson.
Not only is work put in at practice, Wallace is a frequent at the Ron Rosner YMCA in Fredericksburg. "He's not afraid to put in extra hours in the gym," said A'mario Vannorman, one of Wallace's good friends. "When no one else wants to run, he always gonna be the first one to run."
Wallace can be found strolling the hallways with his earbuds in, prefering to keep his presence subtle. The opposite could be said when he steps onto the court, where he shines with skill that is anything but subtle. "If you saw him walking down the hallway and you didn't go here, you wouldn't know that he's like, our best basketball player at Stafford," said Kennedy. 
While Wallace has been showered with praise for his efforts on the basketball team, he hasn't let it affect his relaxed, fun-loving demeanor, both on and off the court. "If he can't control it, then he doesn't let it get him down," Richardson said. "He always stays true to himself and true to others," A'mario added.
Although he is performing at a level well beyond his age, he and his coaches are fully aware he has ways to go to reach his full potential. "I know I'm gonna have to develop, cause I do make a lot of stupid mistakes," said Wallace. Specifically, his coaches hope to see him get stronger in the aspects he isn't already excelling in. "His on-ball defense is great," Richardson said. "His off-ball, he still needs to work on that."
With Wallace putting the numbers up on the scoreboard, his athletic performance warrants immense anticipation and expectations from all over Stafford county. Even Wallace's teachers have acknowledged his accomplishments outside of the classroom. "I didn't realize how talented he was until the season got going," said Mr. Joseph Sheehy, Jackson's history teacher. "I was like oh okay, he's the real deal."
As the season nears an end, the lingering fact remains: this is only Jackson's freshman year. With Wallace already ranking state-wide and leading his team offensively, one can only imagine where he's going in years to come. "The sky's the limit for him," said Richardson.
View Comments(1)
Donate to SHS Publications
Your donation will support the student journalists of Stafford High School. Your contribution will allow us to purchase equipment, attend education conferences, and cover our annual website hosting costs.
About the Writer
Jayda Jones, Writer
Hi, I'm Jayda! I'm a sophomore and I am on the cheer and track team. This is my first year writing for The Smoke Signal. Can't wait to interview people...