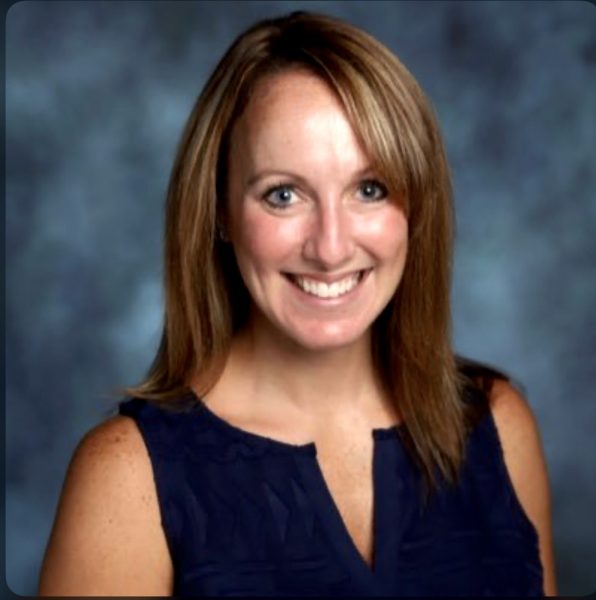 On November 14, 2023 at the Stafford County School Board's regular meeting Mrs. Chelsea Tryon was announced as the new Stafford High School Principal. At 7:33 p.m. later that same day an email was sent out to the Stafford High School community from the Stafford County School Board fully announcing and introducing her to staff, parents, and students. 
At the school board meeting Mrs. Tryon touched on the concept of family within Stafford high school and said " I'm all in". To reinforce that point, she showed a picture of her and her family celebrating at a previous SHS basketball game.She has a husband, who worked as a SHS Varsity Boys Basketball Coach and testing coordinator, and two teenage sons. One of her sons is currently a freshman at SHS while the other will be joining the TRIBE as a freshman in the future. 
 She also mentioned the importance of building relationships with both faculty and students within the building.  In an email sent out by Stafford County Schools Board, the board expressed their enthusiasm about Mrs. Tryon stepping into Stafford. In the note, sent out on Wednesday evening, they wrote, "On behalf of our school and the administration team, we are delighted to welcome her to the Tribe community.". They went on to write, "Her energy and enthusiasm are contagious, and she will be a tremendous asset to our school." Not only does Mrs. Tryon have prior experience working in an administrative role, but she also has some other impressive titles under her belt. 
Tryon has a Bachelor's in Psychology from Christopher Newport University and a Master's in Education, with endorsements in both Special Education and Administration and Supervision, from the University of Mary Washington. She also worked as an assistant principal at A.G. Wright Middle School as well as Mountain View High School, an interim principal at Brooke Point High School for some time, and worked as a special education teacher at the middle school and high school level. Mrs. Tryon is also coming to Stafford High school with the previous background of working as an assistant principal for James W. Robinson Secondary School, one of the three largest public schools in Va, according to the email.
To end off this email the board included, "Over the coming weeks, we will work with Ms. Tryon to transition her into our community. She looks forward to meeting everyone at a community event later this winter." Tryon will begin her new role the new principal at Stafford High School starting on Monday, November 20,2023.